Schrock Cabinetry Construction
Read more about our cabinet construction.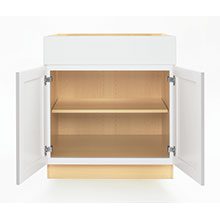 Unmatched Strength and Access with Our Load-Bearing Back
Schrock's hefty ⅜" thick load-bearing back panel extends the entire width and height of our box, providing unwavering structural support for the life of the cabinet. Because of this unique cabinet construction method, in cabinets up to 36" wide, there is no obstructing center divider like other cabinet brands.
Standard Cabinet
⅜" thick furniture thick board top and bottom
½" Thick furniture board sides
⅜" Thick furniture board back
Matching laminate sides
Natural Maple laminate wall cabinet top and bottom
Unfinished back
Natural Maple laminate cabinet interior
⅜" Thick furniture board I-beam braces
¾" Thick furniture board with Natural Maple laminate and PVC edgebanding adjustable shelf
Unfinished furniture board toekick required